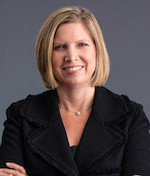 Jennifer Rumsey
Chair and Chief Executive Officer
Jennifer Rumsey became Chair and Chief Executive Officer (CEO) of Cummins Inc., a global power leader that uniquely offers its customers a broad portfolio of power solutions that best meet their needs and powers their businesses, including diesel, natural gas, battery, fuel cells, electrolyzers, and related components, on August 1, 2023.
Rumsey was named President and CEO on August 1, 2022. Prior to her current role, she was President and Chief Operating Officer, which she assumed in March 2021. Before serving as COO, Rumsey was Vice President and President of Components Segment, one of Cummins' five business segments. The Components Segment consists of five businesses: Cummins Filtration, Cummins Turbo Technologies, Cummins Emission Solutions, Cummins Electronics and Fuel Systems and Eaton Cummins Automated Transmission Technologies. As the President of Components, Rumsey oversaw an organization of more than 12,000 global employees with sales of $6 billion in 2020 and customers located around the world.
Rumsey previously served as Vice President and Chief Technical Officer where she led the global technical organization of approximately 11,000 employees responsible for research and engineering across Cummins. Rumsey's early career focused on control systems and system engineering; initially at a fuel processing and fuel cell start-up company in Cambridge, MA. In 2000, she moved to Cummins and has worked in a variety of engineering roles across Cummins and product life cycle areas including advanced technology development, new product development, current product engineering, and product quality.
Rumsey is passionate about building high-performing, diverse teams and has dedicated her Cummins career to the development of others and to innovate for customers to power their success.
Rumsey is a member of the Society of Women Engineers, Society of Automotive Engineers, and Women in Trucking Association. She holds a Bachelor of Science in Mechanical Engineering from Purdue University and a Master of Science in Mechanical Engineering from Massachusetts Institute of Technology.
Marvin Boakye
Vice President, Chief Human Resources Officer
Marvin Boakye joined Cummins as the Chief Human Resources Officer (CHRO) in November 2022. As CHRO, Boakye will lead a global group of HR employees and serve on the Cummins Leadership Team. His portfolio will include spearheading Cummins' efforts to improve employees' experience across the career lifecycle, from onboarding, to manager meetings to talent management processes. Boakye will also further Cummins' investments in developing authentic and highly capable leaders, skilled at inspiring a diverse workforce and encouraging all employees to achieve their full potential. Boakye is a passionate and seasoned DE&I leader and will bring a unique perspective to help enhance Cummins' efforts to create inclusive environments in which all employees feel supported, valued and connected.
Boakye brings more than 25 years of varied and global experience to this role, including work in the manufacturing and automotive industries. Boakye most recently served as the Chief People & Diversity Officer at Papa John's International. Prior to Papa John's International, Boakye was an HR senior leader at Andeavor, a global, integrated oil & gas logistics, marketing and refining company with more than 17,000 employees. Boakye has also held HR leadership roles at Bell MTS, a Canadian telecommunications company; Goodyear, where he was based in Latin America for several years; PulteGroup, a Fortune 500 homebuilder; and The Home Depot.
Boakye has a BA in Psychology and Conflict Resolution Studies from the University of Winnipeg and an MA in Leadership and Training from Royal Roads University. He serves as a National Trustee for the board of the Boys and Girls Clubs of America, and also serves on the board for the University of Louisville College of Business (USA). Boakye will split his time between Indiana and Atlanta, Georgia.
Jenny Bush
Vice President and President, Power Systems Segment
Jenn Bush was appointed Vice President and President of the Power Systems Segment in August 2022. Jenny oversees a global, diversified business segment with sales of $4.4B in 2021 and more than 10,000 employees.
Most recently, Jenny served as Vice President, Cummins Sales and Service North America where she led the transformation of the company's North American Distribution business. Under her leadership, Jenny and team enhanced employee engagement, streamlined operations, accelerated growth, elevated the customer experience and achieved cost savings.
After completing a technical apprenticeship with Shell Oil as the program's first female graduate, Jenny joined Cummins in 1997 as a parts writer. She has contributed to the company's success in various leadership roles spanning power generation, industrial markets and distribution. Jenny's broad career experience includes serving as a Six Sigma Blackbelt in Power Systems, leading the Global Commercial Marine Engine business and directing key distribution markets in the U.S. She possesses deep expertise in large industrial markets including the commercial marine, oil & gas and mining segments.
A native of the U.K., Jenny earned a bachelor's degree in mechanical engineering from Wirral Metropolitan College and an MBA with a concentration in International Marketing from Leicester University. Jenny serves on the boards of Century Aluminum as health, safety and sustainability chair and Youth Villages, a non-profit providing help for children and young people across the U.S. who face a wide range of emotional, mental and behavioral problems.
Amy Davis
Vice President and President, Accelera by Cummins
Amy Davis is Vice President and President, Accelera by Cummins. As the company's fifth and newest business segment, New Power designs and manufactures new and emerging alternative power sources, including electrified power, fuel cell and hydrogen technologies. In this role, Amy sets and implements the strategy for the New Power segment, enabling her team to build Cummins reputation as a leading provider of electrified and hydrogen fuel cell power in commercial markets.
Beginning her career nearly 30 years ago, Amy joined Cummins in 1994 and has extensive leadership experiences across Cummins' five business segments. Prior to her current role in New Power, Amy served in Cummins Components Business as the Vice President and General Manager of Cummins Filtration, which is a world leader in OEM and aftermarket filtration solutions for diesel engines, transmissions and industrial applications. In addition, Amy has served in Cummins' Engine Business in its Sales and Marketing Field Sales, OEM Sales, and Market Communications and Strategy. In addition, she led the Mid-Range North American On-Highway Engine Development programs and served as Executive Director – Medium Duty Truck and Bus. Within Cummins' Distribution Business, Amy led as its President – Cummins Northeast, a Cummins Joint Venture distributor.
Outside of her Cummins experiences, early in her career Amy held positions at the AT&T Corporation and more recently in her career history worked at Alcan Corporation, serving as their Vice President - Sales in the Global Aerospace and Transportation Business.
Amy has led various Cummins initiatives to support corporate responsibility, diversity and inclusion and is especially passionate about encouraging and growing female leaders in the work place. She sponsored local community work in Nashville, Tennessee and sponsored Cummins' first Technology Enhanced Classroom (TEC) initiative developed in Turkey, which partnered with local school and regional corporations to create curriculum for students to enter the technical workforce.
Amy is a graduate of Northwestern University and attended the University of Chicago Booth Executive program for Market Strategy.
Bonnie Fetch
Vice President, Global Supply Chain and Manufacturing
Fetch joined Cummins in 2018 and has consistently taken on additional responsibilities across supply chain, demonstrating her ability to lead strategically and operationally. Fetch has played an integral role in the start-up and expansion of Cummins' supply chain shared services; she led the distribution business and aftermarket supply chain integration strategy and execution; and she led the North American regional operating team.
Prior to Cummins, Fetch spent 20 years with Caterpillar where she held a broad range of supply chain, general management and human resources roles. She led Caterpillar's global aftermarket parts distribution organization, during which she developed and began executing a transformation strategy that enabled new capabilities, improved cost structure and reached record sales.
Fetch completed a bachelor's degree in Applied Organizational Management, post graduate studies in Leadership and Organizational Behavior, and Executive Programs at Stanford University and Singularity University.
Nicole Lamb-Hale
Vice President, Chief Legal Officer and Corporate Secretary
Nicole Lamb-Hale is Vice President, Chief Legal Officer and Corporate Secretary for Cummins. Leveraging her extensive executive-level experience and service in the private and public sectors, Nicole is responsible for worldwide legal matters and oversees a global team of attorneys, paralegals, and other professionals.
Prior to joining Cummins, Nicole was a Managing Director at Kroll, a global governance, risk and transparency consultancy, the head of its Washington, DC office and a Fellow of the Kroll Institute, a think tank associated with the firm. Before Kroll, Nicole was a Senior Vice President of Albright Stonebridge Group, a global strategic advisory and commercial diplomacy firm.
Nicole was nominated by President Obama and unanimously confirmed by the U.S. Senate to serve as the Assistant Secretary for Manufacturing and Services in the U.S. Department of Commerce's International Trade Administration (ITA). In this role, she was the Chief Executive Officer of the industry-facing unit of ITA, serving as the liaison between U.S. industry and the federal government with respect to access to international markets and U.S. policies impacting the competitiveness of U.S. exports. In addition, she regularly led business delegations on international trade and trade policy missions, during which she negotiated with senior foreign government officials on the elimination of regulatory and legal impediments to trade to create policy environments conducive to free trade and to mitigate market access barriers to U.S. exports.
Before serving as Assistant Secretary, Nicole served, by presidential appointment, as the Deputy General Counsel for the U.S. Department of Commerce. In this role, she was the Chief Operating Officer of the Office of General Counsel, where, among other duties, she assisted the General Counsel as the legal advisor to the Secretary of Commerce.
Prior to her government service, Nicole practiced law as an equity partner in two international law firms where she specialized in business restructuring and public finance. After practicing with Dykema Gossett PLLC, where she served as the chair of the bankruptcy practice and as hiring partner, Nicole joined the law firm of Foley & Lardner LLP where, in addition to serving her clients, she served as the managing partner of the firm's Detroit office.
Nicole serves as an independent director on the boards of Federal Realty Investment Trust (NYSE: FRT) and Kroll. She also serves on the board of trustees of the Center for International Private Enterprise, a U.S. Chamber of Commerce affiliate, and on the advisory board of the American Leadership Initiative. Nicole is a past holder of the Gwendolyn and Colby King Endowed Chair for Public Policy at Howard University in Washington, DC.
A member of the Council on Foreign Relations, Nicole earned an A.B. with high honors in Political Science from the University of Michigan and a J.D. from Harvard Law School.
Mahesh Narang
Vice President and President, Components
Mahesh Narang is Vice President and President, Components, one of Cummins' five business segments. He assumed the role in March 2021 after serving as Vice President and General Manager of Cummins Emission Solutions. The Components Segment consists of five businesses: Cummins Filtration, Cummins Turbo Technologies, Cummins Emission Solutions, Cummins Electronics and Fuel Systems and Eaton Cummins Automated Transmission Technologies.
In his over 20 years at Cummins, Narang has held various leadership positions while remaining committed to Cummins and the success of our employees and customers.
Prior to his current role, Narang led Cummins Emission Solutions, a global leader in designing, manufacturing and integrating exhaust aftertreatment solutions to meet the highest emissions standards worldwide. As the General Manager of Cummins Emission Solutions, Narang oversaw an organization of more than 2,200 global employees with customers located around the world.
Narang previously served as Vice President and General Manager of Cummins Turbo Technologies, another business unit within the Components Segment. Cummins Turbo Technologies is a long-time leader in the industry with more than 60 years of turbo experience.
Narang's earlier career at Cummins provided him many opportunities to work within different business segments and across regions in operations, marketing and general management, including his role as Chief Operating Officer for the India Area Business Organization.
Narang holds a Bachelor's degree in Engineering from Mumbai University and a Master of Business Administration from Northwestern University.
​Srikanth Padmanabhan
Vice President and President, Engine Business
As Vice President and President, Engine Business, the largest of Cummins' five business segments, Srikanth Padmanabhan pushes the boundaries of customer-focused innovation to position Cummins as the leading powertrain supplier of choice in the transition to a net zero future. In 2022, the engine business generated over $11-billion in revenue and delivered 1.2 million engines to customers worldwide.
In his 30-plus years at Cummins, Srikanth has been passionate about the intersection of markets and products, innovation, and quality, while being a champion of diversity and local community engagement. He is a results-oriented leader with strategic clarity and a passion for effective communication, recognition, and motivating tomorrow's leaders.
His career has taken him around the globe, living and working in India, the United States, Mexico and the United Kingdom while holding leadership roles in the heavy duty, midrange and light duty markets, Cummins Emissions Solutions, Cummins Generator Technologies, Cummins Filtration and Cummins Fuels Systems.
Srikanth holds a bachelor's degree in Mechanical Engineering from the National Institute of Technology in Trichy, India, and a PhD in Mechanical Engineering from Iowa State University in Ames, Iowa. He is a distinguished alumnus of his undergraduate institution and the recipient of the Professional Achievement Citation in Engineering (PACE) award from Iowa State University's College of Engineering. He is also a graduate of the Advanced Management Program from Harvard Business School.
He serves on the board of directors for Leggett & Platt, Inc. (NYSE: LEG), American Transportation Research Institute (ATRI), and the Community Education Coalition in Columbus, Indiana. He is also a member of the board of advisors for Indiana University-Purdue University Columbus.
Mark Smith
Vice President, Chief Financial Officer
Mark Smith is the Vice President, Chief Financial Officer, Cummins Inc. In this role, he oversees the operations of Cummins' business from a finance perspective and works with finance controllers to ensure that the company meets its operational and financial commitments. In addition, Mark also leads the Investor Relations, Business Planning and Analysis, and Capital Management functions at Cummins.
Mark joined Cummins in 1995. In his more than 20-year tenure, he has served in a number of leadership positions including Vice President of Investor Relations, Controller for the Components business and Controller for the Filtration business. In addition, Mark also served in a number finance and business strategy roles in the Engine and Power Generation businesses in the U.S. and the U.K.
Mark earned a Bachelor of Arts in Economics from the University of Kent and a Master of Business Administration from the Kellogg School of Management at Northwestern University. Prior to joining Cummins, Mark spent six years as a public accountant with Ernst & Young in the U.K. Mark is a qualified member of the Institute of Chartered Accountants in England and Wales.
Tony Satterthwaite
Senior Vice President & Interim President, Distribution Business Segment
Effective September 8th, 2023 Tony will act as the interim President of Cummins' Distribution Business Segment until a new leader is appointed. Tony was appointed as Senior Vice President of Cummins Inc. on August 1, 2022.
Prior to this role, Tony served as Vice Chairman since March 2021 and as President and Chief Operating Officer from October 2019 to March 2021. Tony also has previously led two of the company's business segments. From 2015 to 2019, he was the President of Cummins' Distribution Business, which provides unparalleled service, sales and support and a respective support network to customers worldwide, employing approximately 16,000 people. He managed Cummins Power Generation from 2008 to 2015. Under his leadership, the business segment engineered the power industry's only full range of large stationary generator sets to meet the U.S. Environmental Protection Agency's Tier 4 standards, as well as the stricter Tier 4 Final requirements effective in 2015. The business won major new military contracts, expanded the product footprint and invested in new technologies.
Before joining Cummins in 1988, Tony was a General Field Engineer for Schlumberger. He has traveled extensively and lived in Asia, Europe and the US, allowing him to gain a global view of our customers and operations.
Tony holds a master's in business administration from Stanford University and an undergraduate degree in civil engineering from Cornell University. In addition, he is a graduate of the first Cummins Executive Leadership Development program.
Outside of Cummins, Tony is a Director of IDEX Corporation (NYSE: IEX) where he is a member of the Compensation Committee and is a member of the Nominating and Corporate Governance Committee. He served for 5 years as the Chair of the Compensation Committee, from 2015 to 2020. He is part of the Cornell Engineering Advisory Council, a group that advises the Dean of the Engineering College.
Nathan Stoner
Vice President, China ABO
Nathan Stoner is Vice President – China ABO, with regional responsibility across Cummins' business portfolio in China - including Engine, Components, Power Systems, Distribution, and New Power business units.
Prior to his current role, Nathan served as General Manager of Engine JVs & Partnerships, General Manager of Power Systems China, Executive Director of Global Corporate Development and the Partnership Director of Dongfeng Motors. Prior to working at Cummins, Nathan worked in a variety of entrepreneurial, general management, UX/UI designer roles. He was the founder and General Manager of Sino Universal Ltd., a design and manufacturing firm located in China, setting up and overseeing all aspects of the company's production business and facilities.
He currently serves and has served on the Board of Directors of ten Joint Venture companies and is also the Chairman of the Board of Trustees for Education for Ethiopia, an EdTech not-for-profit organization.
Nathan grew up in England and moved to the US when he was 16. Since graduating from university, he has lived and worked in San Francisco, New Haven, London, Addis Ababa, and several cities in China. Nathan received his bachelor's degrees in Architecture and Mechanical Engineering from Yale University and his MBA from Yale School of Management.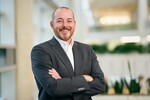 Jeff Wiltrout
Vice President, Corporate Strategy
Wiltrout joined Cummins in 2009 and prior to his current interim role, he served as the Executive Director of Corporate Development where he was responsible for leading the Corporate Development function. In that position, he worked with business segment leaders to evaluate potential opportunities, lead deal negotiations and execute transactions through a variety of structures including acquisitions, joint ventures, minority equity investments and licensing. Wiltrout held several other roles at Cummins including Power Systems Strategy Director, Corporate Strategy Director, Product Planning Leader in Cummins Generator Technologies (CGT), Manager in Corporate Strategy, and Business Development Manager in Cummins Turbo Technologies (CTT). Prior to Cummins, Wiltrout was with National City Bank in Indianapolis.
Wiltrout earned his bachelor's degree from the University of Notre Dame in South Bend, Indiana (U.S.), and his MBA from the Kelley School of Business at Indiana University in Bloomington, Indiana (U.S.)
Jonathan Wood
Vice President, Chief Technical Officer
Jonathan (Jon) Wood became Vice President, Chief Technical Officer at Cummins in April 2023. Prior to his appointment to this role, Jon served as Vice President – New Power Engineering (now called Accelera by Cummins).
With Cummins since 1994, Jon's career has been defined by his commitment to technical excellence and his caring leadership approach. His technical leadership experiences in our Components and New Power businesses make him uniquely qualified for this role as we continue to advance our strategy and develop innovative technologies at the right time for our customers and enhance our technical workforce and capabilities.
Based in the United Kingdom, Jon joined Cummins as a college hire on the Cummins Turbo Technologies (CTT) Aftermarket and Service team. His more recent roles include: Executive Director, Engineering -Turbo Technologies at CTT; Executive Director, Engineering - Emission Solutions; and Vice President – Components Engineering. Jon led our Components efforts to meet Global VI emissions regulations, the success of which reflects his ability to think strategically and drive collaboration across our global team.
During his time with CTT, Jon lived in Wuxi, China, while leading the Asia Engineering Organization, and also served as the Europe ABO Technical Leader from 2017- 2022. His global perspective, collaborative approach, keen technical skills, and customer experience will be a tremendous asset to our team.
Throughout his career, Jon has developed global engineering teams and championed diversity and inclusion across our technical organization. As the Europe ABO Technical leader, he contributed significant time to the European Technical Women's Leadership Team (TWLT). I am looking forward to his increased impact on our people and products in this new role.
Jon is a Chartered Engineer with the Institute of Mechanical Engineers, a Fellow of the Royal Society for the Arts, Manufactures and Commerce, and a graduate of the Cummins Executive Development program. His home base will continue to be in the U.K. with travel to connect with stakeholders across the globe.